In loving memory of 
Gregory Jamie Feener
July 30, 1977 – December 26, 2022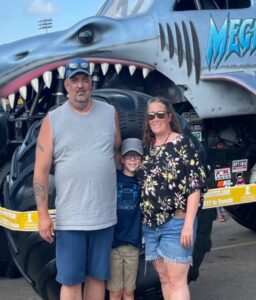 The family of Greg Jamie Feener are saddened to announce his passing on December 26, 2022 in Fort McMurray, Alberta at the age of 45. Greg was born on July 30, 1977 in Corner Brook, NL to Arnold and Joy Feener. He grew up in NL and Ontario, where at the age of 12 he lost his mother to cancer. His family then moved back to NL. In 1998, at a chance meeting, he met his future wife, Janet. In 2000, Greg and Janet moved to Fort McMurray where they began to carve a life together and although they had no immediate family around, they made many lifelong friends that became family. He cherished each friendship he had.
Greg and Janet added to their family in 2014 when their son Jordan was born. Greg was a great father who enjoyed creating memories with his family to cherish.
Greg enjoyed a life filled with friends and family. His family spent a lot of time camping and enjoying the outdoors. He made many friends that became family. His favourite hockey team was the Colorado Avalanche and while he was undergoing surgery and recovery, he made sure to never miss a game and watched his team take home the cup.
In early 2022, Greg was diagnosed with a rare cancer and after surgery and treatment, the cancer spread and Greg lost his very courageous battle on December 26, 2022.
Left to mourn and remember fondly are his wife, Janet and son, Jordan; parents Arnold and Sharon Feener; brother Brian Feener (Dawn), sister in laws Jennifer Mills (Jason) and Jane Dean (Mike), mother/father in-law Jerry and Jean Thompson. Nieces and nephews Breanna, Taylor, Brayden, Julia, Jacob, Charlie and Elise. As well as a wide circle of family and friends. 
Greg was predeceased by his mother, Joy. 
Although you will be dearly missed, we know you are no longer suffering and at peace, in this we can take comfort.
Family is asking that in lieu of flowers, memorial donations can be made to the Cross Cancer Institute in Edmonton or the Northern Lights Regional Health Care Center in Fort McMurray.
A Visitation will be held from 5:00 p.m. to 7:00 p.m. on Thursday, December 29, 2022 at Fort McMurray Funeral Home, 225-B MacDonald Cres, Fort McMurray, Alberta.